Bio Tentang Aktor Kim Sung Eun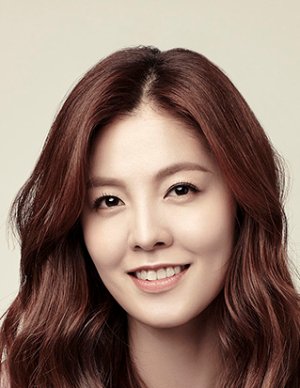 First Nama: Sung Eun
Family Nama: Kim
Nama Alias: 김성은
Panggilan Lainnya: Kim Seong Eun
Asal Negara: South Korean
Jenis Kelamin: Female
Tanggal Dan Tahun Lahir: September 16, 1983
Umur: 39
Siapa dan Bagaimana Perjalan Karir Untuk Aktor Kim Sung Eun

List Singkat Drama/Drakor Aktor Kim Sung Eun

Inilah Beberapa Daftar Film yang Diperankan Oleh Aktor Kim Sung Eun

Drama
Nama/Judul
Rating
Still You

Korean Drama,

2012

, 124 eps


Shin Na Ra

(Support Pemeran)

6.8

Enjoy Life

Korean Drama,

2009

, 133 eps

7.0

Hometown Legends

Korean Drama,

2009

, 10 eps


Hyun Deok (Ep. 6)

(Main Pemeran)

7.1

Cooking up Romance

Korean Drama,

2008

, 95 eps


Kang Hye Kyung


(Main Pemeran)

6.7

Who Are You?

Korean Drama,

2008

, 17 eps


Yoon Ha Young

(Support Pemeran)

7.2

Catch a Kang Nam Mother

Korean Drama,

2007

, 18 eps


Han Soo Jin

(Support Pemeran)

6.8

Thank You

Korean Drama,

2007

, 16 eps


Suh Eun Hee

(Support Pemeran)

8.2

The Bizarre Bunch

Korean Drama,

2005

, 170 eps


Lee Hae In

(Main Pemeran)

7.6

TV Novel: Wind Flower

Korean Drama,

2005

, 179 eps


Shin Jung Nim


(Main Pemeran)

8.0

Detectives

Korean Drama,

2003

, 15 eps

6.0

Swan Lake

Korean Drama,

2003

, 92 eps


Shin Se Hee

(Support Pemeran)

7.0

Scorched Rice Teacher and Seven Potatoes

Korean Drama,

1999

, 114 eps


Go Cha Soon

(Support Pemeran)

10.0
Movie
Nama/Judul
Rating
Notebook from My Mother


Soo Jin

(Support Pemeran)

7.4

Part-Time Spy


Eun Jung

(Support Pemeran)

7.4

Queen of the Night

7.2

My Little Hero


[Show Host]

(Support Pemeran)

7.8

Hotel M: Gangster's Last Draw

7.0
Special
Nama/Judul
Rating
Drama Special Season 2: That Man is There

Korean Special,

2011

, 1 eps


Seo Joon Hee

(Main Pemeran)

7.3
TV Show
Nama/Judul
Rating
Top Teacher

Korean TV Show,

2022

, 30 eps

0.0

Where Is My Home

Korean TV Show,

2019

, 209 eps

8.1

Happy Together Season 4

Korean TV Show,

2018

, 77 eps

7.9

Apart Together

Korean TV Show,

2018

, 18 eps

0.0

The Swan Club

Korean TV Show,

2017

, 8 eps

7.9

The Swan Club: Pilot

Korean TV Show,

2017

, 2 eps

8.0

Same Bed, Different Dreams Season 2: You Are My Destiny

Korean TV Show,

2017

, 300 eps


(Ep. 194-210, 228) | [Special MC] (Ep. 177)

(Regular Member)

8.1

What Shall We Eat Today – Delivery

Korean TV Show,

2016

, 238 eps

7.8

Real Men: Female Soldier Special – Season 4

Korean TV Show,

2016

, 8 eps


(Ep. 146-153)

(Main Host)

8.0

Same Bed, Different Dreams Season 1

Korean TV Show,

2015

, 62 eps

8.2

Wednesday Gourmet

Korean TV Show,

2015

, 223 eps

8.4

Live Talk Show Taxi

Korean TV Show,

2007

, 501 eps


(Ep. 130-131, 300)

(Guest)

8.0

Happy Together Season 3

Korean TV Show,

2007

, 557 eps

8.0

Radio Star

Korean TV Show,

2007

, 850 eps

7.9

Music Bank

Korean TV Show,

1998

, 1150 eps


[Host] (Feb 15 – May 16, 2008)

(Regular Member)

8.0
Kim Sung Eun Nama: Kim Sung Eun Nama Alias: 김성은 Panggilan Lainnya: Kim Seong Eun Asal Negara: South Korean Jenis Kelamin: Female Tanggal Dan Tahun Lahir: September 16, 1983 Umur: 39
Kim Sung Eun is a South Korean actress. She graduated from Anyang Arts High School and later obtained a bachelor's degree from the Film Arts Department and a master's degree from the Department of Distribution Industry both at Sejong University. She made her TV debut in a commercial for "Clean & Clear" in 1998 and later appeared in the 1999 MBC mini-series "Spring".
She continued to appear in several dramas and shows in the following years until she married former footballer and current Jeju United FC head coach, Jung Jo Gook in 2009. The couple has three children and Kim decided to reduce her TV appearances to take care of the children and also 3 years where his husband played in the French league between 2010 and 2012 and she barely appeared in Korean television. After they returned to South Korea she began appearing as MC in several fashion shows and in 2021 the couple became a regular in the show "Same Bed, Different Dreams 2: You Are My Destiny".
(Source: Korean = Namu Wiki || Translation = MyDramaList) Edit Biography