Bio Tentang Aktor Yang Hee Kyung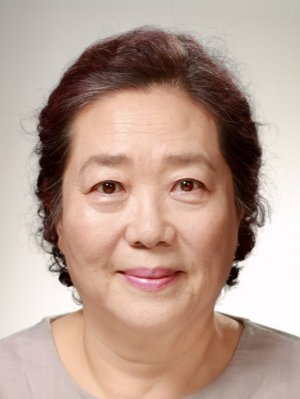 First Nama: Hee Kyung
Family Nama: Yang
Nama Alias: 양희경
Panggilan Lainnya: Yang Hee Kyeong, Yang Hui Gyeong
Asal Negara: South Korean
Jenis Kelamin: Female
Tanggal Dan Tahun Lahir: December 3, 1954
Umur: 68
Siapa dan Bagaimana Biografi Untuk Aktor Yang Hee Kyung

List Singkat Drama/Drakor Aktor Yang Hee Kyung

Inilah Beberapa List Drama yang Diperankan Oleh Aktor Yang Hee Kyung

Drama
Nama/Judul
Rating
Love Is for Suckers

Korean Drama,

2022

, 16 eps


Yoon Young Hee

(Support Pemeran)

7.5

If You Wish Upon Me

Korean Drama,

2022

, 16 eps


Yeom Soon Ja


(Support Pemeran)

8.4

Our Blues

Korean Drama,

2022

, 20 eps


Ms. Jang (Ep. 14)

(Guest Pemeran)

8.7

Secret Royal Inspector & Joy

Korean Drama,

2021

, 16 eps


Madam Jo [Yi Eon's grandmother] (Ep. 8, 10, 13-14, 16)

(Guest Pemeran)

7.9

Unasked Family

Korean Drama,

2019

, 123 eps


Wang Kkon Nip [Yeo Won's mother-in-law]

(Support Pemeran)

7.5

Goodbye to Goodbye

Korean Drama,

2018

, 40 eps


Kim Ok Ja [Se Young's mother

(Support Pemeran)

8.0

Yeah, That's How It Is

Korean Drama,

2016

, 54 eps


Kim Sook Kyung

(Support Pemeran)

7.6

Because It's the First Time

Korean Drama,

2015

, 8 eps


[Counselor] (Ep. 3)

(Guest Pemeran)

7.6

Great First Wives

Korean Drama,

2015

, 121 eps


Kim Bong Soon

(Support Pemeran)

7.0

High Society

Korean Drama,

2015

, 16 eps


Lee Min Sook [Joon Ki's mother]

(Support Pemeran)

7.3

Who Are You: School 2015

Korean Drama,

2015

, 16 eps


Park Min Kyung (Ep.1 & 4)

(Guest Pemeran)

8.2

My Heart Twinkle Twinkle

Korean Drama,

2015

, 26 eps


[Restaurant Owner Kong]

(Support Pemeran)

7.1

What Happens to My Family?

Korean Drama,

2014

, 53 eps


Cha Soon Geum

(Support Pemeran)

8.3

Witch's Romance

Korean Drama,

2014

, 16 eps


Park Myung Ja [Ji Yeon's mother]

(Support Pemeran)

7.9

Cunning Single Lady

Korean Drama,

2014

, 16 eps


[Restaurant owner] (Ep. 5)

(Guest Pemeran)

7.8

The Woman Who Married Three Times

Korean Drama,

2013

, 40 eps


Yoo Min Sook

(Support Pemeran)

6.6

Secret

Korean Drama,

2013

, 16 eps


Park Gye Ok

(Support Pemeran)

8.4

The Birth of a Family

Korean Drama,

2012

, 115 eps


Oh Yeong Ja

(Support Pemeran)

7.5

Childless Comfort

Korean Drama,

2012

, 40 eps


[Yeong Hyun's aunt]

(Guest Pemeran)

7.3

Panda and Hedgehog

Korean Drama,

2012

, 16 eps


Kim Kap Soon


(Support Pemeran)

7.1

My Husband Got a Family

Korean Drama,

2012

, 58 eps


Uhm Soon Ae

(Support Pemeran)

8.0

Daddy's Sorry

Korean Drama,

2012

, 3 eps

7.1

What's Up?

Korean Drama,

2011

, 20 eps


[Doo Ri's mom]

(Support Pemeran)

7.6

Birdie Buddy

Korean Drama,

2011

, 24 eps


Uhm Jung Ran

(Support Pemeran)

6.6

Women in Our House

Korean Drama,

2011

, 125 eps


Heo In Ae

(Support Pemeran)

7.2

War of the Roses

Korean Drama,

2011

, 102 eps


So Young Ja

(Support Pemeran)

7.1

President

Korean Drama,

2010

, 20 eps


First Lady Choi Jeong Im

(Support Pemeran)

7.3

Prosecutor Princess

Korean Drama,

2010

, 16 eps


Park Ae Ja

(Support Pemeran)

7.6

Obstetrics and Gynecology Doctors

Korean Drama,

2010

, 16 eps


[Hye Young's mother]

(Support Pemeran)

7.6

Creating Destiny

Korean Drama,

2009

, 31 eps


Park Geum Ja

(Support Pemeran)

7.4

Tamra, The Island

Korean Drama,

2009

, 16 eps


[Park Kyu's mom]

(Support Pemeran)

7.2

The Road Home

Korean Drama,

2009

, 120 eps


[Mi Ryung's mother]

(Support Pemeran)

6.8

Star's Lover

Korean Drama,

2008

, 20 eps


Lee Seung Yeon

(Support Pemeran)

7.2

Chun Ja's Happy Events

Korean Drama,

2008

, 111 eps


Park Sam Suk

(Support Pemeran)

7.4

La Dolce Vita

Korean Drama,

2008

, 24 eps


Heo In Ae

(Support Pemeran)

7.4

Three Dads One Mom

Korean Drama,

2008

, 16 eps


Hwang Soon Ja [Kyung Tae's mother]

(Support Pemeran)

7.4

White Tower

Korean Drama,

2007

, 20 eps


Hong Sung Hee

(Support Pemeran)

7.7

Dal Ja's Spring

Korean Drama,

2007

, 22 eps


Kang Shin Ja [Team Manager]

(Support Pemeran)

7.6

Here Comes Ajumma

Korean Drama,

2006

, 162 eps


Shin Sook Ja [Oh Nim's mother-in-law]

(Support Pemeran)

6.9

My Beloved Sister

Korean Drama,

2006

, 55 eps


[Gun Woo's aunt]

(Support Pemeran)

7.4

Super Rookie

Korean Drama,

2005

, 20 eps


Mrs. Yang

(Support Pemeran)

7.0

Be Strong Geum Soon

Korean Drama,

2005

, 163 eps


Sook Mo [Geum Soon's uncle's wife, Geum Ah's mother]

(Support Pemeran)

7.5

Long Live Love

Korean Drama,

2003

, 50 eps


Kim Pyeong Hwi

(Support Pemeran)

5.3

On the Prairie

Korean Drama,

2003

, 52 eps


Na Jung Ran

(Support Pemeran)

7.7

Girl School

Korean Drama,

2002

, 149 eps


Suk Rae

(Support Pemeran)

8.0

Since We Met

Korean Drama,

2002

, 48 eps


Hong Ae Kyung

(Support Pemeran)

7.4

More Than Words Can Say

Korean Drama,

2000

, 190 eps


Park Soon Ja

(Support Pemeran)

8.0

School 3

Korean Drama,

2000

, 49 eps


Yang Hee Jung

(Support Pemeran)

7.2

8 Love Stories

Korean Drama,

1999

, 16 eps


Story 2 (Ep. 3-4)

(Guest Pemeran)

7.8

You Don't Know My Feelings

Korean Drama,

1999

, 52 eps


Yang Bong Soon

(Support Pemeran)

5.0

Sweet Bride

Korean Drama,

1999

, 16 eps

7.3

Did We Really Love?

Korean Drama,

1999

, 44 eps


Yeo In Sook

(Support Pemeran)

7.0

Seven Brides

Korean Drama,

1998

, 40 eps


Jang Mi

(Support Pemeran)

4.0

The Lie

Korean Drama,

1998

, 20 eps

9.0

The Barefoot Youth

Korean Drama,

1998

, 16 eps

6.4

Women

Korean Drama,

1997

, 53 eps


[Ji Soo's mother]

(Support Pemeran)

5.0

Men of the Bath House

Korean Drama,

1995

, 83 eps


Kim Bok Hee

(Support Pemeran)

6.7

LA Arirang

Korean Drama,

1995

, 265 eps


Mi Hee [Jung Soo's friend] (Ep. 25)

(Guest Pemeran)

8.0

Daughters of a Rich Family

Korean Drama,

1994

, 70 eps


[Aunt – Kwon family]

(Support Pemeran)

9.0

What Is Love?

Korean Drama,

1991

, 55 eps


Hee Kyung

(Guest Pemeran)

7.5
Movie
Nama/Judul
Rating
Life Is Beautiful


[Dong Tan landlady]

(Guest Pemeran)

7.7

Borderliners


[Young Man's mother]

(Support Pemeran)

0.0

Boomerang Family


[Elderly neighborhood woman 3]

(Support Pemeran)

7.2

Sunny


[Jang Mi's mother]

(Support Pemeran)

8.8

Lost and Found


[Dong Shik's mom]

(Support Pemeran)

7.0

Scout


[Dong Yeol' mother]

(Support Pemeran)

7.8

Peppermint Candy


[Radio DJ – voice only]

(Bit part)

7.4

Broken Branches


[Jong Gi's mother]

(Support Pemeran)

6.0

Man


[Mother]

(Support Pemeran)

0.0

The Hair Dresser

0.0

Out to the World


[Gas Station Attendant]

(Guest Pemeran)

0.0
Special
Nama/Judul
Rating
Drama Special Season 2: Terminal

Korean Special,

2011

, 1 eps


Shin Ja

(Support Pemeran)

7.7
TV Show
Nama/Judul
Rating
Fantastic Family: DNA Singer Pilot

Korean TV Show,

2022

, 2 eps

7.9

Friday Night

Korean TV Show,

2020

, 11 eps

8.1

Twilight Delight

Korean TV Show,

2018

, 20 eps

6.0

Master in the House

Korean TV Show,

2017

, 238 eps


[Special Appearance] (Ep. 65)

(Guest)

8.7

Hip Hop Tribe Season 1

Korean TV Show,

2016

, 10 eps


[Participant]

(Regular Member)

7.9

What Shall We Eat Today – Delivery

Korean TV Show,

2016

, 238 eps

7.8

Wednesday Gourmet

Korean TV Show,

2015

, 223 eps

8.4

Family's Dignity: Full House

Korean TV Show,

2013

, 91 eps

8.0

Immortal Songs: Singing the Legend

Korean TV Show,

2011

, 600 eps

8.3

Hello Counselor Season 1

Korean TV Show,

2010

, 431 eps

8.0

Radio Star

Korean TV Show,

2007

, 850 eps

7.9
Yang Hee Kyung Nama: Yang Hee Kyung Nama Alias: 양희경 Given name: Yang Hee Kyung Panggilan Lainnya: Yang Hee Kyeong, Yang Hui Gyeong Asal Negara: South Korean Jenis Kelamin: Female Tanggal Dan Tahun Lahir: December 3, 1954 Umur: 68
Yang Hee Kyung is an actor from Seoul. She studied theatre at the Seoul College of Art.
In 1995, she won Best Actress at the 19th Seoul Theater Festival before winning Best Supporting Actress at the 2000 KBS Drama Awards.
(Source: MyDramaList) Edit Biography